Mit Bordmitteln...
Peter König, FKY-Mitglied mit Wohnort Seychellen, schickte ein paar Fotos von seinen Mastbaukünsten (der Mast war fast über Bord gegangen). Der Mast gehört auf seinen Mälarkreuzer "Everglow".
P.K.: "Mastreparatur stellt eine rechte Herausforderung für den Laien dar. Zudem kann man hier nicht mal eben Holz bekommen oder roten Leim kaufen, also musste ich bis auf meinen letzten Tropfen West Sytem Epoxy verwenden – hat grad mal eben so gereicht… Hatte noch ein Stück altes Spruce oder womöglich Oregon Pine, weil recht rötlich, und für das große Stück hab ich Fichte Bauholz verwendet – sieht gut aus und ist dem original swedish pine/fir sicherlich am nächsten. Hab' gleichzeitig alle Beschläge abgebaut, die Bolzenlöcher mit Hartholz ausgepfropft und neu gebohrt, Unterlagen aufgesetzt usw usf, da das nach 77 Jahre alles etwas ausgeleiert war. Nun steht er wieder und wartet auf neue Oberwanten, da ein Toggle komplett zerbröselt ist und ich das erst beim Wiederanbauen gesehen habe... Naja."
Während der Reparaturzeit musste übrigens die Hansa-Jolle "True Love" als Regattaschiff ran, der allerdings bei der Rundt-Mahe-Regatta (fast) der Baum (fast) brach: "Hab' ihn grad noch mit dem Paddel bandagiert und über die Runden gerettet und musste den nun auch aufwendig schnell schäften, um 2 Wochen später bei bis zu 35 Knoten die Series-Regatta zu segeln. War wieder gut steif."
.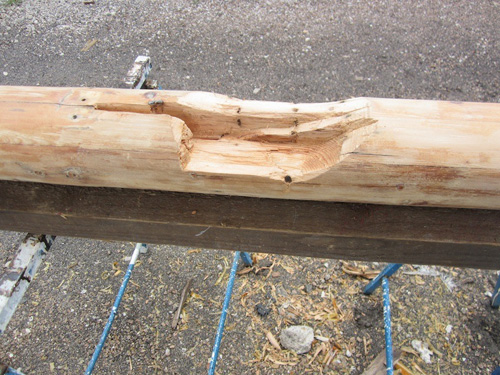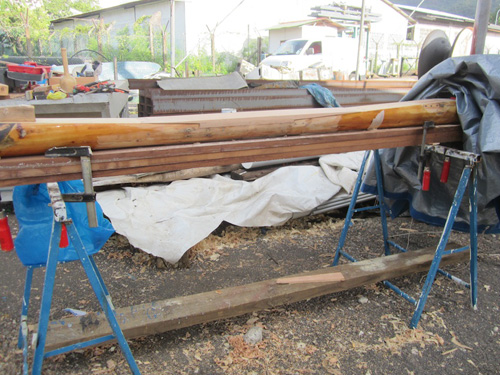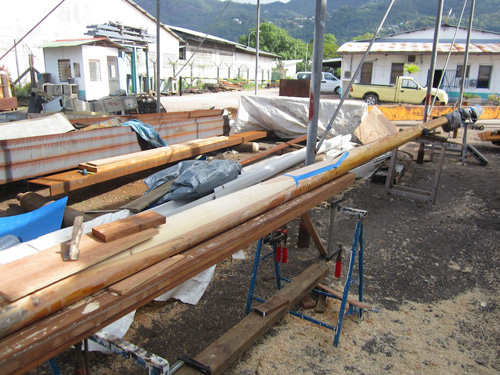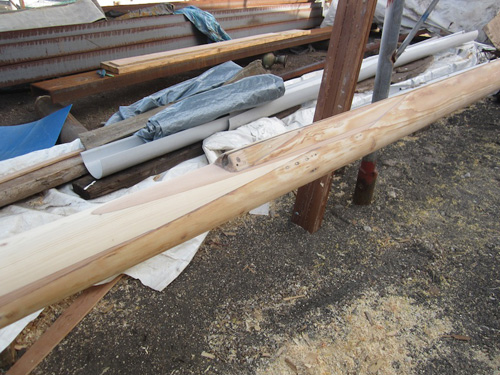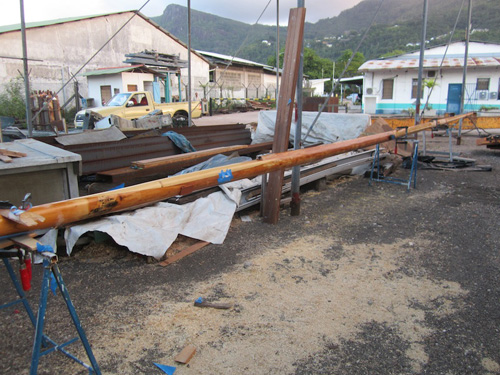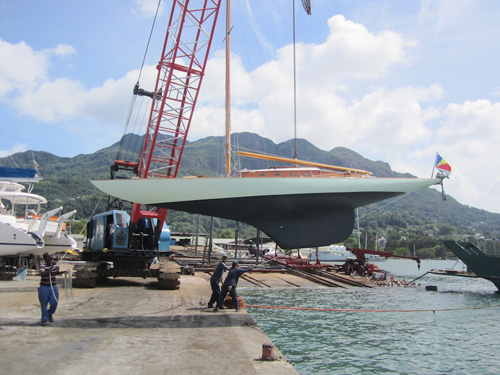 .
P.K. über seinen Mälarkreuzer Everglow und die Hansa-Jolle "True Love"
"I was leaving Germany for a far away destination. It was obvious that I would take my longtime owned A&R (now for 22 years) but I wanted a slightly bigger boat for longer trips. I was very familiar with the excellent sailing qualities of the Mälar 30. A one-design – always important for me. Beautiful – also important. And, she would fit into a 40'HC container for shipping (only the mast needed to be cut to fit…).
She arrived in SEYCHELLES, Indian Ocean, Christmas 2011, was renamed EVERGLOW and has been based here since. Usually strong winds but never more than a force 6 and 2-3 m, 9second period waves, 26°C water temperature, Equator sun. She has won the SYC SE-Monsun sailing series (usually 12-15 races / season) in 2012 (gap year 2013 was won by my 18' A&R) and the season 2014 over all, sometimes sailed alone or with one crew, as the only classics on the the circuit. She has cruised the inner islands and as soon as the piracy ban is lifted hopefully still this year, she will be setting out to the outer islands into the deep Indian Ocean, the nearest group being 160 miles away.
After first sailing here with my little A&R I was very skeptical if a long toothpick would be able to cope with the predominant conditions. I have to congratulate the Mälar association and her choice of Lage Eklunds design. EVERGLOW is coping incredibly well with the conditions she was definitely NOT designed for. Completely unchanged from her setup and configuration as I bought her except for a topping lift, lazy jacks (to be able to sail in and out on my own) and the mainsail having one full batten to fall easily into the lazy jacks and a single reef just in case. As I am more a seaman than a pure racing sailor I do need to control her speed to not crash and bash and jump off the waves too much. Her upwind performance outsails very modern hightec 32 + 35' Archambault's at times even though I need to slow her down. I have logged(GPS) 14,5 knots running down the waves with her stern awash up the the lazzarrette hatch and only once has her bow cut a wave with solid water up to the mast, the unlatched forward hatch flipped open… She does very rarely spoon a little water with her beautiful bowfitting having plenty of lift in her forward sections.
She is an absolute pleasure to sail and a pride to own.
Thank you to Carl Hendrik for letting me buy her, to her designer Lage Eklund, to the Mälar visionaries who commissioned her design and – the reason for this letter/essay/report, to her renowned builders Gustav Plym Neglinge Varvet near Stockholm in beautiful Sweden."