Runa VI
Runa VI, frisch in Frankreich restauriert, gehörte zu den Stars der Voiles de Saint Tropez 2013. Auftraggeber der Restaurierung auf der Werft Chantier du Guip in Brest war Yves Carcelle, früherer Louis Vuitton Chef.
Gebaut wurde Runa VI von M. Nielsen in Skovshoved (DK) nach den Plänen von Gerhard Rønne
(L: 10,41m, B: 2,40m, T: 1,58m)
Fotos der eindrucksvollen Werftarbeit sind im Web zu sehen:


www.chantierduguip.com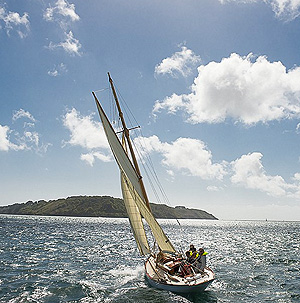 Schon vor der Restaurierung der Runa VI hatte Yves Carcelle die Runa IV wieder herrichten lassen, ebenfalls gebaut von M. Nielsen und konstruiert von Gerhard Rønne
(: 10,70m, B: 2,40m, T: 1,60m)
Auch hierzu ein paar Fotos:


omruna.blogspot.de

Als Bewunderer des dänischen Konstrukteurs Gerhard Rønne hat sich Carcelle zum Ziel gesetzt, den Verbleib der Runas I bis VII aufzuklären und ihnen frisches Leben zu ermöglichen.
Mehr über die verschiedenen Runas:


omruna.blogspot.com

Dem Vernehmen nach soll die Runa III zuletzt auf deutschen Gewässern gesegelt sein. Eine Suche - veröffentlicht unter "Nachgefragt" auf unserer Website - brachte bislang noch kein Ergebnis:

Runa III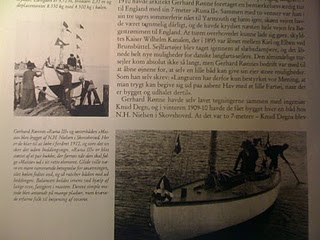 Wer kann helfen? Gesucht werden von Gerd Lohmann, Chantier du Guip, Informationen über den Verbleib der RUNA III, Konstrukteur ist der Däne Gerhard Ronne, Stapellauf war im Frühjahr 1912 auf der Nielsen Werft in Skovshoved, Dänemark. Die Yacht, LOA 8.86m, BOA 2.15m, soll sich in Deutschland befinden

Interview mit Yves Carcelle
auf

www.yachtonline.it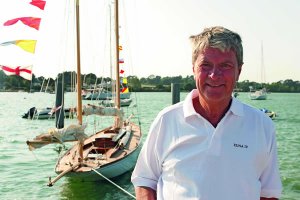 MY DANISH PASSION
It's difficult to imagine a more beautiful setting for the celebration of the rebirth of the stunning classic yacht Runa IV than the Gulf of Morbihan on a sunny summer's day. On May 31st, Louis Vuitton chairman and CEO Yves Carcelle – a man with an eye for the fine things in life - chose the magical Breton bay and its festival to mark the start of the lovely Gerhard Rønne-designed yawl, which first splashed on May 23rd 1918.
IS RUNA IV YOUR FIRST VINTAGE YACHT?
More than that: she's my first boat! Every year I charter a sailing yacht for the family holiday but I've never owned any boats.
HOW DID YOU FIND RUNA IV?
A dear friend of mine, the talented American sculptor Gregory Ryan, bought and restored a boat called Runa VII a few years ago in the States. I watched the restoration process from afar and learned about Gerhard Rønne and his Runas. Then two years ago, Gregory told me he'd found Runa IV in California...
WHAT DREW YOU TO HER?
Her line is magnificent and instantly moved me. But the idea of publicising her truly extraordinary story really thrilled me.
HAS THAT CHOICE SOMETHING TO DO WITH YOUR MAXIM THAT SMALL ACTIONS MAKE BIG DIFFERENCES?
The purchase was very simple: a phone call to the States. It was only later that I realised what kind of adventure I was letting myself in for.
RUNA IV IS A WORLD REMOVED FROM THE RACING YACHTS OF THE LOUIS VUITTON AND AMERICA'S CUP. ISN'T SHE AN ODD CHOICE IN A WAY?
Don't forget that Louis Vuitton was the main sponsor of the Nioulargue for many years. So there's no dissonance between tradition and modernity in that respect.
WHAT DID BRUNO TROUBLÉ (INVENTOR OF THE LOUIS VUITTON CUP, ED.'S NOTE) SAY ABOUT IT?
He was very enthusiastic and supervised the restoration with me.
AS THE HEAD OF LOUIS VUITTON, DID THE WORD "TRADITION" HAVE A LARGE PART TO PLAY IN YOUR CHOICE OF RUNA IV AND HER RESTORATION?
One side of the luxury world has to do with heritage conservation in general. I like to contribute, however modestly, to that.
WHY DID YOU CHOOSE GUIP DI BREST, WHICH RESTORED ERIC TABARLY'S 1898 PEN DUICK, FOR THE PROJECT?
I followed Bruno Troublé's advice. They're all huge enthusiasts, obsessed with detail.
ARE THERE ANY PARALLELS BETWEEN THE SKILLS OF THE GUIP SHIPWRIGHTS AND LOUIS VUITTON'S CRAFTSPEOPLE?
It's fascinating to watch craftspeople at work, regardless of whether they're master shipwrights or leather workers. They have the same dexterity, the same passion…
DID YOU HAVE TO MAKE ANY CLEAR CHOICES TO PRESERVE RUNA IV'S CLASSIC SPIRIT?
Yes, particularly the decision to restore her to her original yawl rig.
HOW DO YOU FEEL WHEN YOU SEE HER NOW?
Like I'm looking at a beautiful work of art.
YOU'RE ABOUT TO BUY RUNA VI, A 1927 DESIGN ALSO BY THE DANISH ARCHITECT GERHARD RØNNE. ARE YOU GOING TO CONTINUE THE COLLECTION?
I don't know if I personally will restore Runa VI, but I'm very happy we found her again. Runa III and Runa V are still missing. I hope they're still out there somewhere! Maybe one day we'll be able to reunite all of Gerhard Rønne's Runas. It would be a magnificent way of looking back at the history of the boats designed between 1903 and 1945.
YOU ARE TRAVELLING CONSTANTLY TO DEVELOP LOUIS VUITTON AND YOU LIKE TO SAY THAT YOU'LL SLEEP IN ANOTHER LIFE. ISN'T THIS NEW PASSION FOR CLASSIC YACHTS AN UNUSUAL WAY OF BRINGING YOUR DREAMS OF ESCAPE TO THE FORE?
We all need dreams. Even people, like ourselves, who don't sleep very much.
Jacques Taglang