NEWS

Drei zu zwei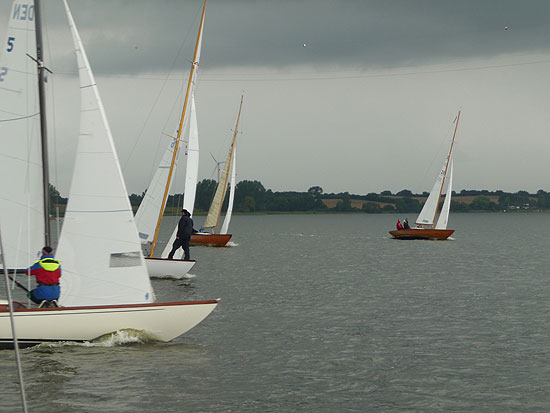 Team Race auf der Schlei: Unsere schottische Freunde von der Gareloch One Design Class im Royal Northern & Clyde Yacht Club traten am Wochenende gegen Freundeskreis-Segler an.
Die Teams lieferten sich fünf hartumkämpfte Races auf den vier einschlägig bekannten Knarrbooten! Teamrace- erfahren und regelfest, entführten die schottischen Gäste mit 3 gegen 2 gewonnenen Wettfahrten die David Ryder-Turner Trophy wieder an den Clyde. "Secretary" Charles Darley berichtet:

Caol Ila not quite up to strength
A team of 8 Gareloch sailors visited north Germany over the weekend for team racing against the Freundeskreis Klassische Yachten. The event was instigated by the late David Ryder-Turner and the trophy bears his name. Racing was at Lindaunis on the Schlei, a fjord off the Baltic. More like the Norfolk broads than the narrow, steep sided inlet one might imagine. There was the novelty, near the racing area, of a dual use road/rail bridge part of which lifted every hour to let boats through.

The racing was of the fiercest format, two boats a side. Whichever team has last place loses. Imagine the manoeuvring that leads to.

The boats were Knarrs. 30 feet long with classical lines, long overhangs at the ends and rudimentary cruising accommodation below. Very pretty indeed. The chief organiser, Klaus Birkhoff, did a superb job of bringing together four equally matched boats. Not to mention the magnificent schooner Vera Mary, our hotel boat for the weekend.

The Gareloch team had Klaus's Triton and Louise. The FKY team Frau Groove and Caol Ila. Caol Ila is very strong in the local fleet races and came with a bottle of her whisky. Which did not last long.

The local team were surprised when the Garelochs began to attack at the preparatory signal of the first race. What are they doing, said one of their crew, we haven't even started yet. His skipper, Enno Thyen, a very determined racer, gently suggested he wake up.

In the first race, Caol Ila used her speed to finish first by a margin. She had not reckoned, though, on her team mate Frau Groove being pushed back to fourth. The second race was less widely separated but the result was the same. The Garelochs now had their tails up. The match was to be best of five races. The FKY had a team talk. It worked. In the next race, Triton found herself trying to attack Caol Ila on the last leg which was downwind. The careful judgement needed to make such a move stick eluded Triton and Caol Ila got through. The local team similarly won the fourth race. All to play for in the fifth.

Caol Ila tried to push Triton over the line early. Fearful of being over early herself, she did not press as hard as she might. Triton got away with it by a whisker and was then on top and in control. By the final leg, Caol Ila was in front, but Frau Groove was last. It was Caol Ila's turn to misjudge the luff. Triton was able to luff a little so as to get clear ahead. When the overlap was re-established, Caol Ila was not allowed to sail above her proper course. All that took time so that Louise was now in the lead and Frau Groove came to attack Triton. It was too late. Triton was close to the line and was able to call for room at the finishing mark.

Your correspondent is biased, but a better, closer, harder fought day of team racing is hard to imagine.

On the Sunday, some of us went for a cruise up the Schlei (under the lifting bridge). John Blackie was asked to take Frau Groove back to her home port of Kiel. A voyage he relished. With Miriam and Ufo Sutter as crew, they found force 7 winds in the Baltic after leaving the Schlei. Maybe not enough to blow the barnacles off the rocks but it was enough to blow the Windex off the mast. They enjoyed the trip and were ready for their dinner on Sunday evening.


Die Gareloch One Design Class gibt dem FKY Ende August nächsten Jahres die Chance zur Revanche - in Schottland. Auf zur nächsten Runde!
Doch zuvor noch ein ganz herzliches Danke an die diesjährigen Organisatoren des deutsch-schottischen Treffens auf der Schlei - vornehmlich an Klaus Birkhoff, an die Eigner der Knarrboote, an Anne und Norbert vor Ort in Lindaunis, an Jan von der "Vera" und Katrin in Sieseby...
WH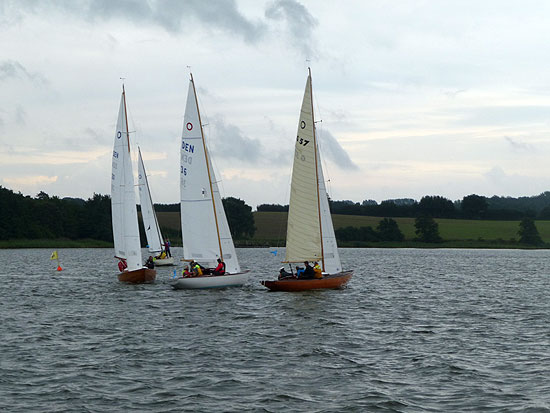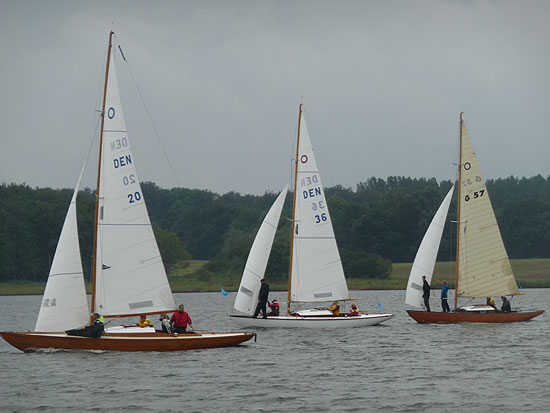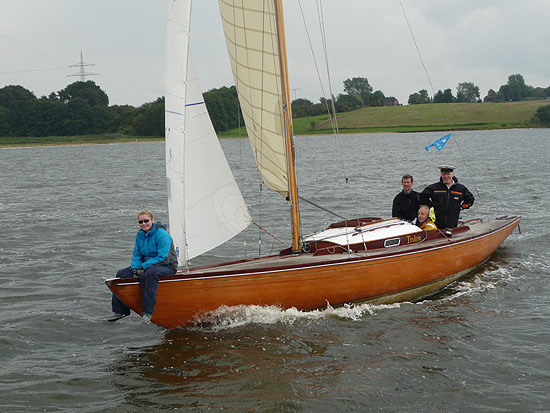 So sehen Sieger aus...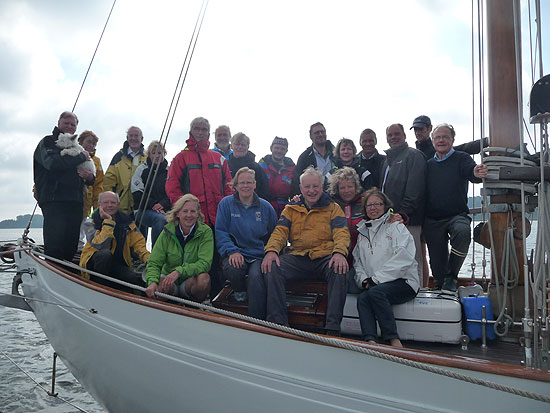 Auf "Vera Mary"...
Fotos: Hella Peperkorn